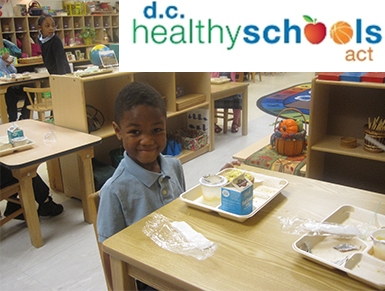 Food insecurity and paradoxically obesity are serious problems for the District of Columbia. In fact, one in eight households faces a constant struggle against hunger. More than 70 percent of students in D.C. public and public charter schools qualify for free meals. Children who lack consistent access to nutritious foods are more likely to be in poor health and suffer from nutrition related diseases such as obesity. Poor nutrition also negatively impacts school readiness and future career success as hungry children have difficulty focusing, miss more days of school, and score lower on standardized assessments.
The Healthy Schools Act (pdf), passed unanimously by the D.C. Council in 2010, is designed to improve the health, wellness, and nutrition of District children by helping schools, students and families eat healthy, stay active, learn healthy habits, care for the environment, and create healthy school communities.
The Act features several key anti-hunger provisions including:
Free universal breakfast for all students.
Breakfast in the classroom and other innovative service models.
Elimination of the reduced-price co-payment for school meals.
The Act also provides opportunities to improve District children's health through a variety of measures, including: enhanced nutrition in school meals; increased physical activity and education; stronger school wellness policy implementation and accountability; and promotion of school health centers.
What's happening in D.C.
Check out this video, produced by American University and Kaiser Permanente to see how the Act is transforming the school environment:
Resources: