WIC
To apply for the WIC Program in the District of Columbia:
Call (202) 442-9397 or 1-800-345-1WIC and they'll transfer you to the WIC clinic nearest you.
WIC staff will ask a few questions to determine eligibility.
If found potentially eligible, a WIC staff person will schedule an appointment at the WIC clinic of the applicant's choice.
The first appointment will be within two weeks of the initial phone call to WIC.
You can also prescreen yourself for WIC using USDA's online prescreener.
D.C. WIC Participation Data
In 2014 the WIC program served a monthly average of over 14,589 participants, of which 6,447 were children.
While WIC participation has been declining around the nation since 2009, participation in DC has dropped at a steeper rate. National participation dropped 9.5% from 2009 through April 2014 compared to a 15.5% drop in participation in DC. Throughout this time DC's participation has fluctuated a higher rate as well. The WIC Program Data page at USDA Food and Nutrition Service's Web site has additional WIC data.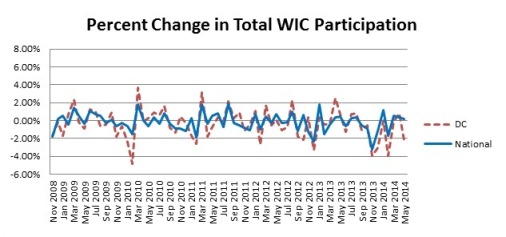 Click to view a larger version.
Prepared by D.C. Hunger Solutions July 2014.
WIC Resources
How to Get Food in the District of Columbia (pdf) is for anyone who would like to sign up for, or find out more information on, federal food programs.
The WIC section includes: information on how WIC can help you, who can get WIC and what incomes are eligible, how to apply, and a list of D.C. WIC offices.
Visit the D.C. Department of Health's WIC section.
Visit the U.S. Department of Agriculture's Web site section on the WIC Program.
Visit the Food Research and Action Center's Web site for WIC advocacy and program information.