SNAP/Food Stamps - Benefit Changes, Fall 2013
SNAP households will see two changes in their benefit amounts during the fall of 2013. On October 1, Supplemental Nutrition Assistance Program (SNAP, formerly known as food stamp) benefits will increase slightly for most households to reflect the cost of living. On November 1, families will see their benefits decrease due to the end of the extra benefits provided by the 2009 "stimulus" federal law.
Families are likely asking you how much will benefits be cut. It is hard to say how benefits will change for a particular household. Benefits depend on many things — income, household size and expenses. A family of four with no income and no other changes in their case will see a decrease of $36 in their monthly benefit. A client who receives $16 a month in SNAP benefits will receive $15 per month.
This table gives provides an overview of what the reduced amount might be for households that have no income.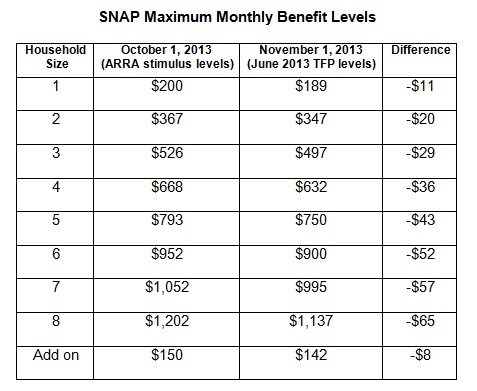 We need your help to get the word out. Action steps: