The School Breakfast Program
...is a critical, proven way to reduce hunger and improve wellness among school-age children. With the passage of the Healthy Schools Act of 2010, school breakfast is free for all students in D.C. Public Schools and public charter schools.
Increasing participation in school meals not only reduces childhood hunger, but also improves children's diets (pdf). Research indicates that school meal participants are less likely to consume "competitive foods" at school, less likely to have nutrient inadequacies, and more likely to consume fruit, vegetables, and milk at breakfast and lunch. Eating breakfast at school results in fewer visits to the school nurse and helps build healthy habits. In addition, school meals may be the most effective tool for combating obesity in poor children.
Breakfast also helps children learn, improves attendance, and reduces behavior problems and tardiness. Children who eat breakfast at school closer to test-taking time perform better on standardized tests that those who skip breakfast or eat breakfast at home.
What's happening with school breakfasts in D.C.?
Help Us Celebrate National School Breakfast Week March 6th-10th
This week allows students, school staff, faculty, and families to understand the importance of school breakfast, the D.C. Healthy Schools Act, and the benefits that they offer to students in D.C. traditional and charter public schools. National School Breakfast Week also recognizes the contribution of school food service workers and how vital they are to ensuring that students receive a healthy breakfast every day.
Resources:
In honor of National School Breakfast Week, DC Central Kitchen is inviting parents with children enrolled in 10 DCPS Schools to enjoy a FREE breakfast on Thursday, March 9, 2017 in the school cafeteria. If you are a DCPS parent interested in attending, click here for information.
Get your apples ready to Hear the DC Crunch on Tuesday, March 7th!
Register here.
Hear the DC Crunch! is an event during National School Breakfast Week. It aims to highlight the important role of the School Breakfast Program has in ensuring children have access to the healthy food they need. To participate, all you have to do is: grab an apple, take a picture while biting into the apple, tag yourself or your organization in the picture and post it on Twitter or on the DC Hunger Solutions Facebook Page using the hashtag #HearTheCrunch.
Resources:
D.C. Ranked 3rd in the Country for School Breakfast Participation
According to the annual national school breakfast report released in February by the Food Research and Action Center (FRAC), the District of Columbia continues to be at the top of list when looking at the city's ability to serve school breakfast to low-income children compared to states across the country. The School Breakfast Scorecard (pdf) which measures the success of the School Breakfast Program at the national and state levels, finds that 70 low-income children in Washington, D.C. ate school breakfast on an average day for every 100 that received free or reduced-price lunch during the 2013 – 2014 school year. This ration, compared to the nation average of 53 low income children eating school breakfast forever 100 that ate school lunch, places D.C. third in the nation for feeding hungry children.
The report finds that, on an average school day in 2013-2014, 31,301 low-income children in Washington, D.C. participated in school breakfast, an increase from the previous year. Part of this success is due to the widespread adoption of Community Eligibility, which allows high-poverty schools to offer free meals, and the continued positive impact of the D.C. Healthy Schools Act which required high-poverty schools to offer breakfast in the classroom or other alternative serving methods. Programs like breakfast in the classroom, or "grab and go" where children can take meals from carts or kiosks to then eat in the classroom are proven to lead to higher participation rates.
Celebrate National School Breakfast Week with the DC School Breakfast Text Competition
To celebrate National School Breakfast Week, D.C. Hunger Solutions is joining DC agencies and nonprofits in offering the School Breakfast Texting Competition. Through the competition, families at DC public and public charter schools can share why school breakfast is important to them. The contest will begin on Monday, March 2nd and continue until Friday, March 13th; participants will be able to win prizes for their school and for themselves. Share this flyer (English, Spanish) with details on the competition, and help us spread the word about the benefits of school breakfast.
Thanks to the implementation of the D.C. Healthy Schools Act, D.C. catapulted from 20th in the nation to first in the nation for breakfast participation among low-income children. Read more in FRAC's School Breakfast Scorecard.

D.C. schools are putting the Healthy Schools Act into action.
To comply with the access sections of Title II of the Healthy Schools Act, schools must:
Serve breakfast free to all DCPS and public charter school students. This provision means that thousands more children will receive a free nutritious morning meal at school. Free breakfast supports families living on very tight budgets who cannot afford to provide good breakfasts at home every day nor the money to buy them at school.


Serve free breakfast through "alternative serving models" (pdf) after the school day begins. Elementary schools where 40% or more of students qualify for free or reduced-price meals must serve breakfast in the classroom. And middle and high schools where more than 40% of students are eligible for free or reduced-price meals must serve breakfast either in the classroom, or through another alternative like "grab and go" carts.
Follow this link to more information on these requirements.
Innovative breakfast serving models make breakfast truly accessible – after the school day begins, and in a location, like the classroom, where all students are able to eat. Find out more...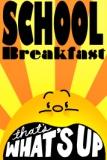 D.C. Hunger Solutions can help by:
providing you with a breakfast outreach materials to promote the program to students, teachers, principals, and parents;
partnering with your school to tailor your breakfast program so that breakfast becomes part of every child's school day;
presenting to students, faculty, or staff about the importance of school breakfast.
Help us spread the word:
Stuff this parent flyer (pdf) promoting school breakfast in student backpacks to let parents and guardians know about school breakfast.