D.C. School Breakfast Scorecard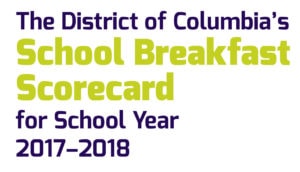 Just over 30,000 low-income students in the nation's capital participated in school breakfast on an average school day in the 2017-18 school year, compared to the nearly 43,550 students who participated in school lunch, according to the D.C. School Breakfast Scorecard.
Check out our school breakfast communications toolkit. 
Only 28 of the 61 Local Education Agencies (LEAs, or school districts) included in the Scorecard met D.C. Hunger Solution's goal of reaching 70 low-income children with school breakfast for every 100 participating in school lunch during the 2017-2018 school year. D.C.Public Schools – the District's largest LEA – was not one of the 28.
Districtwide, 69.1 low-income students ate school breakfast for every 100 who received school lunch; making this the fourth year in a row that D.C. has not met the 70-to-100 goal.
Twenty-three LEAs failed to serve school breakfast to even half of the low-income students who participated in school lunch in the 2017-2018 school year. The low participation in these LEAs indicates that many schools are likely no longer in compliance with the D.C. Healthy Schools Act of 2010, which requires all D.C. public schools – both traditional and charter – to offer breakfast at no charge to all students, and high-poverty schools to adopt breakfast after the bell service models, such as breakfast in the classroom.
Similar to the Healthy Students Act of 2010, the Healthy Students Amendment Act of 2018 requires all D.C. schools with at least 40 percent of students eligible for free and reduced-price meals to offer free breakfast after the school day starts, or breakfast after the bell. The Act also creates a new annual subsidy of $2 per student to assist schools in implementing breakfast after the bell programs like breakfast in the classroom and "grab and go" breakfast. This new funding, which we are calling on the D.C. Council to approve in their FY 2020 budget, will help schools increase school breakfast participation, ensuring more children get the nutrition they need to learn and thrive in the classroom.